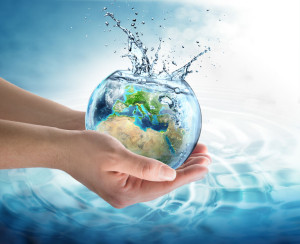 When you look at Utah, it's hard to believe we live in a desert. Or that according to the Utah Division of Water Resources, nearly 100% of the state is in a drought and 90% is in extreme drought. But that's the reality.
That's why conserving water is so important. We can all do our part to conserve water right at home. One of the most important water-saving features in your home, for example, is your dishwasher. Today's full-size dishwashers typically use only 3-6 gallons of water per cycle. Washing dishes by hand can use dozens and dozens of gallons of water for the same amount of dishes!
There's also ample opportunity to conserve water in your bathrooms. Turning on the shower and letting it steam up the bathroom before you jump in is a water-waster. So is taking long showers. Another water-waster: Running the faucet the whole time you wash your hands or face, brush your teeth or shave. Keep bathroom faucets in good shape and watch for any leaks. The annoying drip you hear in the middle of the night can waste up to 5 gallons of water a day! A leaky toilet can waste 200 gallons a day.
Consider installing low-flow fixtures and new toilets. Older toilets gobble water, using as much as 6 gallons per flush. Newer, EPA WaterSense-certified toilets use less than 2 gallons of water per flush! Newer, Energy Star–certified washing machines also can help you save water, using about 40 percent less water than regular washers.
In your yard, planting local plant species that are more drought-tolerant will go a long way in reducing your water bill. While a lawn is great, why not replace some of it with xeriscaping instead? It's water-friendly and you won't have to mow it. Another smart move? At home and/or at your business, investing in a Smart Rain irrigation system is one of the best ways to prevent overwatering and save water. Our systems monitor water usage and shut off lines when no more water is needed.
Another important way to conserve water: Talk to your children about water-wise habits, such as not running the water the whole time they are brushing their teeth. Children can learn early how to conserve water! These are just a few great ways you can reduce water bill and save our most precious resource. Make water conservation a family affair and see how much you can save.