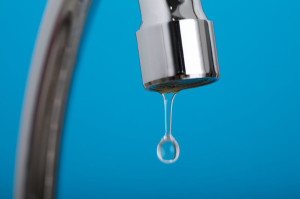 As a homeowner, you're likely conscious of your water consumption. All it takes is a few consecutive eye-popping water bills to convince you to become an instant convert to more efficient watering. If you also live in the Western or Southwestern U.S., you're already intimately familiar with drought. The past few years have seen unprecedented water shortages in the states of this region, particularly in California and Arizona, but extending to more and more states (even Texas!) as time goes on. While state governments have taken measures to conserve water by restricting the Colorado River and enforcing strict regulations for water usage, the hope is that some relief will come by citizens voluntarily cutting personal water usage.
So, how can you make a difference in preserving limited water and be more ecologically responsible? Here's a few ways to get you started!
Account for all your water usage. While leaks are obviously costly and wasteful, they are stealthy pickpockets too — slowly draining your savings right under your nose. The easiest way to tell if you have a water leak is to check your meter. Shut off all running water in the house, record the number on the meter, wait two hours and check the meter again. If the numbers don't match then you've got an issue.
Solve that warm-up water problem. Do you find you have to run the water awhile before it gets hot? Installing a tankless hot water heater will reduce water waste by providing you that gloriously hot water in no time!
Green your pool. Feeling guilty about your swimming pool in drought season? The good news is that swimming pools aren't as water wasteful as irrigating lawns or having a leaky toilet, but it's still advisable to manage evaporation. Investing in a pool cover can cut water evaporation by 90 percent. Lowering the water level and temperature also help prevent water waste through evaporation and splashing.
Finally, when you're ready to get serious about water consumption, we suggest you look into our line of smart irrigation systems, which have saved our customers millions of collective dollars over the years. Get in touch with us today.